Woman dies on snow-affected road in Cambridgeshire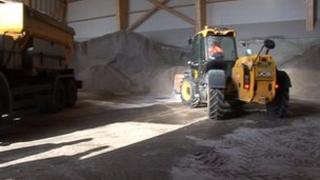 A woman was killed and police dealt with more than 60 crashes on roads in Cambridgeshire over the weekend.
Dijana Arlauskiene, 37, of Chatteris, died after being struck by two cars on the A141 on Sunday evening. Neither driver was injured in the incident.
The road was closed for several hours while investigations were carried out and police have appealed for witnesses.
No schools have reported they are closing in Peterborough or the whole of Cambridgeshire on Monday.
The Highways Agency and police are warning drivers to take extra care on Monday especially on minor roads which may not have been gritted.
John Caldwell, regional operations manager for the Highways Agency, said drivers should only travel if absolutely necessary.
Gritting teams have been out all weekend on the county's roads where up to seven inches (15cm) of snow fell on Saturday night and freezing temperatures may have turned to ice in places.
Some bus services are affected and passengers are advised to contact them but rail transport is running normally.
Monday is expected to be cloudy, cold and misty with some patchy light sleet or rain.