Chittering murder probe: Pair's bail extended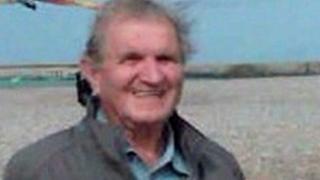 Police investigating the murder of a 76-year-old man in Cambridgeshire have extended the bail of two people arrested in connection with the case.
Llywelyn Thomas was found dead at his home in Chittering on 18 December after suffering head injuries during what police believe was a botched burglary.
A 22-year-old man and 21-year-old woman have had their bail extended to 10 May.
Police confirmed they had found fingerprints at the property during a "protracted forensic investigation".
They are still waiting for the results of the tests which revealed the prints.
Officers believe Mr Thomas, who farmed near Bridgend before moving to Cambridgeshire 12 years ago, was killed on the night of 17 December.
Several items including four "very distinctive" watches and a silver tea service are thought to have been taken from the victim's home.
Police said they were following up "other lines of inquiry" including CCTV, ANPR (Automatic Number Plate Recognition) and speed camera footage from the vicinity as part of the investigation.