Dr Mary Archer steps down as chair of Cambridge University Hospitals Trust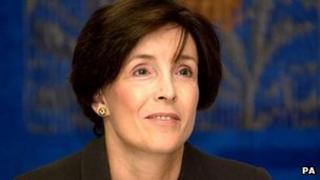 Dr Mary Archer is to step down from her role as chair of Cambridge University Hospitals NHS Foundation Trust, after 10 years in the role.
Her successor, Jane Ramsey, whose previous roles included chair of Lambeth Primary Care Trust, will take over in November.
As chair, Dr Archer was credited with driving the development of the Cambridge Biomedical Campus.
She is retiring after serving the maximum of three terms in the post.
Chief Executive of Cambridge University Hospitals, Gareth Goodier, praised Dr Archer for her "incredible dedication, drive and determination".
He thanked her for her service to the trust and the wider NHS in the east of England.
Ms Ramsey said she was looking forward to taking on her new role.
"This is a fantastic opportunity to continue to provide excellent healthcare for local people, work closely with a world-class university, and work with partners on developing the biomedical campus which will be a hub for the creation of new and life-changing drugs and treatments of the future," she said.