Addenbrooke's Hospital celebrates opening by the Queen 50 years ago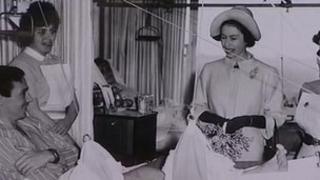 A Cambridge hospital is celebrating its 50th anniversary by compiling a "memory bank" of photographs, film and patients' recollections.
The "new" Addenbrooke's in Cambridge was officially opened by the Queen on 28 May, 1962.
Hospital archivist Hilary Ritchie said she wanted to hear from anyone who remembered the royal visit.
She plans to gather material and stories from the day for a special exhibition later in the year.
"The photographs we do have make it look like a very formal event and the programme of the Queen's visit was very precise," Ms Ritchie said.
"It details exactly who she was going to meet and how long the Queen was going to spend in certain departments."
'Waving flags'
She described it as a "very structured" visit.
"I certainly don't think there was a royal walkabout, or that she met the crowds who had gathered to see her," she said.
People who have already shared their memories include Joy Cooper, who was a pupil at Cambridgeshire High School for Girls at the time.
She said: "We lined the road in our smart green uniforms and were issued with little Union Jack flags to wave as the Queen was driven by on the way back from the hospital.
"Sadly she didn't stop and it was all over very quickly."
A plasterer working on the site recalled that parts of the hospital were still being built as the Queen was opening it.
Ms Ritchie said she hoped former members of staff, patients and members of the public would contact the hospital and share any photographs, films or memories.
The hospital plans to display its memory bank at the end of May to mark its 50th anniversary.