Mystery of 12ft gorilla dumped near Ely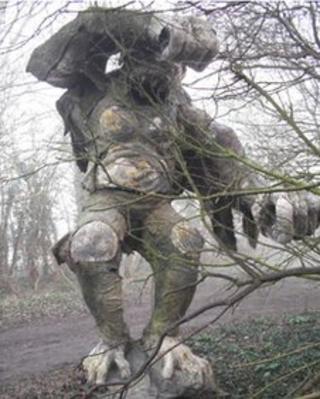 Police and a council are investigating an unusual act of fly-tipping after a 12ft gorilla statue was found on a bridleway in Cambridgeshire.
A dog walker saw the ape in Witchford, near Ely, on Thursday, and reported it to East Cambs District Council.
Enforcement officer Mark Mehaffey said: "In all our years of investigating cases of fly tipping none of us have ever come across a 12ft metal gorilla."
Anyone with information is asked to contact the council.
"Although not in the best of condition, the ape clearly came from somewhere so we are keen to hear from anyone who has any information about how the animal got there or knows who owned it," added Mr Mehaffey.
"Flytipping is something we take very seriously and there are fines of up to £50,000 and five years imprisonment for anyone who is caught dumping waste illegally."
The gorilla is being removed by the authority's waste contractors for storage until investigations have been completed.