'Frog conference' tackles toad and frog road threat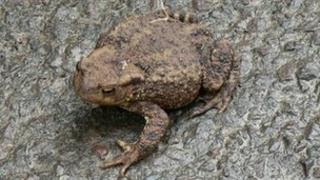 The threat to frogs and toads, many of which die crossing roads to mating sites, is to be discussed in a European conference hosted in Cambridgeshire.
Conservation groups from 12 countries will join Peterborough-based Froglife for a two-day EU Toads on Roads event.
The charity said "about 20 tonnes of toads" die on UK roads alone each year.
It hopes to work with other organisations to improve road design across Europe and increase the use of "toad crossings" and "toad tunnels".
A spokesman said road expansion in Europe had resulted in an "increased loss of connectivity between habitats".
"This could have profound and potentially disastrous consequences for biodiversity," he said.
The conference, on Wednesday and Thursday, will discuss "Europe-wide sustainable solutions to wildlife mortality on roads".
Toad patrols
Many of the animals are killed after they wake from hibernation in March and make their way across busy roads to their birth pond to mate.
Froglife currently has more than 1,000 volunteer toad patrollers in the UK, helping to usher them to safety.
They work mainly after dusk, during the mating season, erecting "toad crossing" signs and carrying the creatures in buckets from one side of the road to the other.
In 2010 Froglife volunteers helped about 75,000 toads cross roads in the UK to mating sites.
With the assistance of the patrollers, a Froglife spokesman said "about 90% of toads reach the sites safely".
"This means that 10% of them don't, and where there are no patrols or dedicated crossings, the numbers are much higher", he added.
The charity hopes the conference will "establish a strong European partnership capable of tackling these problems on a broader scale".