Hinchingbrooke Hospital 'sorry' for bowel cancer shortcomings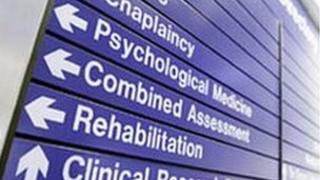 A hospital in Cambridgeshire has apologised for its shortcomings in bowel cancer treatment after criticism in a Royal College of Surgeons report.
Hinchingbrooke Hospital has pledged to transform colorectal services and to recruit more specialist surgeons.
Concerns were raised over the hospital in June 2011 after a coroner criticised a number of deaths.
Services were suspended and patients sent to other hospitals. The report said confidence now had to be restored.
The report said the number of deaths among patients undergoing bowel cancer treatment were well within national guidelines for mortality.
It added there was a "large amount of evidence indicating dysfunction in the surgical team" and this presented a risk to patient safety.
The review team looked at several serious incident reports which revealed behavioural issues and dysfunction in relationships between the surgical unit and medical, clinical and managerial staff.
The department's multi-discipline team "had neither the appropriate ethos nor processes in place to allow it to function effectively", the report said.
Recruitment under way
The team was also concerned about the apparent reluctance of consultants and clinicians in other specialties to challenge the views and decisions of the colorectal surgeons.
"This is out of step with modern surgical practice, where a true team ethos and the need for constructive challenge are prerequisite," the report said.
Hinchingbrooke Health Care NHS Trust apologised for past failings and said it was committed to transforming the quality of colorectal care.
A comprehensive action plan has been developed and is already being implemented.
A recruitment campaign is now under way to increase the number of colorectal surgeons and specialist colorectal nurses.
Mr Hisham Abdel-Rahman, medical director for Hinchingbrooke Health, said: "We apologise to the families and patients who did not receive the high quality care they deserved, and would like to express again our deep sympathy and condolences to these families.
"Having accepted and thoroughly investigated the failures identified, we have addressed the problems head on by investing extra resources, people and energy into the service.
"Patients can be assured that our colorectal service is safe and delivering high quality care."
Massoud Fouladi, chairman of Circle Partnership, which manages the hospital, said: "From now on, we promise to share as much information as possible, starting with the publication of all patient feedback - the good, the bad and the ugly - unedited on our website in the next six months."