Chittering murder probe: Son appeals for witnesses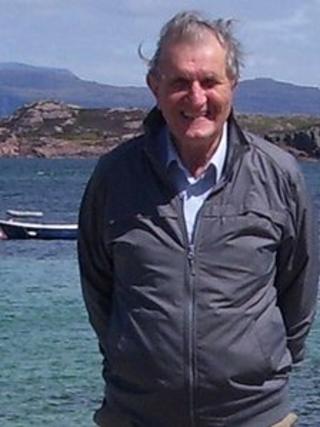 The son of a man killed in his Cambridgeshire home has appealed for witnesses on what would have been his father's 77th birthday.
Llywelyn Thomas was found dead at his Chittering home on 18 December. Police believe he was killed the previous night during a botched robbery.
In a statement released by police, Richard Thomas, 50, said the family was devastated by the murder.
"It's a terrible tragedy and we are desperate for justice," he said.
His father and late mother had moved from Wales to Cambridgeshire to be closer to him, Mr Thomas explained.
He said although his father missed the Welsh hills and his friends, he "really enjoyed living in the Cambridge area".
'Closure'
In a tribute to his father, Mr Thomas said: "He was a very interesting man who loved to travel.
"In recent years he also became very widely-read and even turned one of his rooms into a library.
"He was thoroughly enjoying his retirement.
"I will miss him a lot. Not only was he my dad, but we had such great times together as we shared similar interests.
"If anyone has any information, please call the police so we can have some closure to this terrible tragedy."
Three months after the murder, officers renewed their appeal for witnesses and information about three watches and a wallet, which were found to be missing from Mr Thomas's home.
A 22-year-old man and a 21-year-old woman are on bail in connection with the investigation.
Mr Thomas had been a farmer in the Bridgend area of south Wales before moving to Cambridgeshire 12 years ago.