Black fox killed on road offered to scientists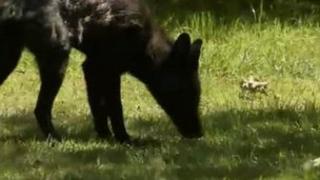 Scientists are to study the body of a rare black fox killed on a road in Cambridgeshire.
The vixen was found on the A1198 near Bassingbourn and a local man, Jack White, 81, moved it to his house.
He was originally going to bury it, but has been put in touch with the Anglia Ruskin University, Cambridge.
The Life Sciences Department, which specialises in the study of dark pigmentation, will now study the creature which may be a "one-off".
Helen McRobie, a lecturer in biomedical science who has confirmed it is a fox, said: "Melanism is common in most species and is due to a mutation on a gene involved in pigmentation.
"The gene involved can vary and as this is a rare case and not part of a population of other black foxes it may well turn out to be a one-off, loss-of-function mutation."
'Beautiful creatures'
Mr White moved the dead fox from the roadside to his back garden using a wheelbarrow.
He said: "I've seen a lot of foxes in my time and also met a gamekeeper and he was quite certain it was a fox.
"He was amazed because he'd never seen one like that.
"It's got a remarkably bushy coat and foxes may be a confounded nuisance, but they are beautiful creatures.
"I haven't got room for it in my deep freezer unfortunately."
The fox is due to be collected and taken to the university.