Chittering murder: Killer 'could be local', police say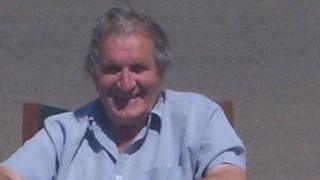 The killer of a 76-year-old man could be local to the area around the Cambridgeshire village where he was murdered, police say.
Llywelyn Thomas was found dead at his Chittering home on 18 December last year. Police believe he was killed during a botched robbery.
Det Ch Insp George Barr said he also believed someone in the area knew the identity of the killer or killers.
A £50,000 reward is being offered for information leading to a conviction.
"We believe the offenders are local and we also believe other people in the area will know who is responsible," Det Ch Insp Barr said.
"I would urge those people to do the right thing and come forward to police.
"It is understandable that people may have concerns about coming to the police, but I would assure them we have lots of experience dealing with sensitive enquiries and can offer them support."
Mr Thomas' family is offering £20,000, Crimestoppers £10,000 and Cambridgeshire police £20,000 for information which leads to the conviction of his murderer.
Mr Thomas and his late wife had moved from Wales to Cambridgeshire to be closer to their family.
He had been a farmer in the Bridgend area of south Wales before moving to Cambridgeshire 12 years ago.