Cambridge riverside hotel expansion plan rejected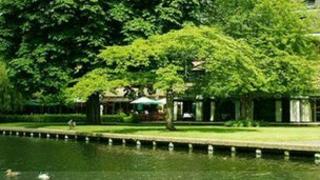 Plans to expand a Cambridge hotel, opposed by hundreds of people including Griff Rhys Jones and Stephen Hawking, have been rejected.
The Ability Group, which owns the DoubleTree by Hilton, had applied to build a three-storey extension with 31 rooms and a new leisure centre.
Similar plans submitted in 2010 were also thrown out by the city council.
Planning officers said the expansion would have an adverse impact on nearby conservation areas.
They said the group's plans for the hotel, on the bank of the River Cam in the historic centre of Cambridge, did not include adequate provision for increased traffic.
It described the design as "fussy and lacking coherence", adding that the extension was "unacceptable by virtue of its height, scale, mass and bulk, the material of its construction and its position on the site".
The Ability Group did not wish to comment.
Campaigners who opposed the hotel gained the support of physicist Prof Hawking, who is based at the University of Cambridge, and Mr Rhys Jones, who studied there.