Guinea pig 'explosion' causes chaos for Cambridgeshire charity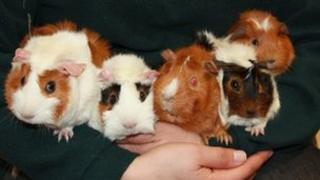 An increase in unwanted guinea pigs has prompted a Cambridgeshire animal charity to teach pet shop owners how to "sex" the animals correctly.
Wood Green animal shelter said it was at "full capacity" after a couple brought in 45 guinea pigs produced over eight months by their "same sex" pets.
"Of those, 17 are pregnant and could have up to six piglets each," a spokesperson said. "You do the maths."
The charity is now teaching pet shop staff to identify males and females.
Its centres in Cambridgeshire and Hertfordshire have been asked to re-home 420 unwanted guinea pigs since the beginning of the year.
The charity currently has 70 looking for homes, but that number is set to rise steeply when the pregnant females give birth next month.
A spokesperson said: "Although we recommend guinea pigs be kept in mixed-sex pairs, you really need to have a neutered male with one, or perhaps two females.
"Unneutered males are active from just three weeks and the mums can become pregnant again within an hour of giving birth.
"We are working with pet shops across the county to help teach staff how to sex guinea pigs so new owners don't end up with unexpected litters."