E.On apologises for Peterborough charity's £78,000 bill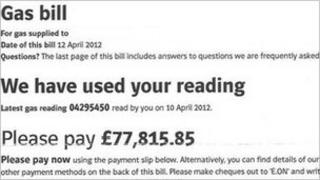 An energy company has apologised after sending a Peterborough charity a gas bill for almost £78,000.
E.On issued the bill in April to Neil McGregor-Paterson, who runs the Realitas Community Arts Centre.
"Our usual bills are £30 a month but we were told they were estimated. They took two readings and I gave them three before they sent this bill," he said.
An E.On spokesman said the company was "truly sorry for the large bill... issued in human error".
Mr McGregor-Paterson received the bill after querying an earlier one sent to the charity by E.On, in March.
"They said because our previous payments had been estimated, we owed £876.43," he said.
"We simply couldn't afford that, so we turned off the heating and everyone was sitting around in their coats."
He then discovered the bill included charges for gas used at the premises the year before his charity moved in.
"They sent people to take two new readings and I also had to give them three of my own over the phone," Mr Mcgregor-Paterson continued.
"When the revised bill for £77,815.85 arrived I almost fell off my chair.
"Luckily I have a strong heart.
"It's about time the electricity suppliers made reading their bills easier and with all their resources, get their readings right."
Resolved 'straight away'
The company has since apologised and sent another bill to the charity for £27.21.
"That was more like it," Mr McGregor-Paterson said.
"I have since worked out that it would have taken the charity 2,859 months to whack up a bill as high as £78,000, based on our usual gas consumption."
The E.On spokesman said the company had "worked to resolve [the issue] straight away."
"We recommend that anyone who has any concerns with their energy bills contact us directly so that we can help," he said.