Tyler Whelan death: Mother and partner on trial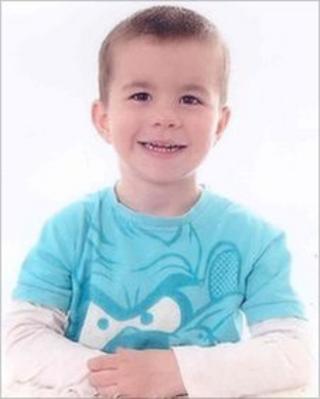 A five-year-old boy from Peterborough was punched, kicked and bitten by his mother's partner before he died, a court has heard.
Tyler Whelan died in March 2011 after suffering a "blunt-force trauma" to the head and abdomen, a jury was told.
Elvis Lee, 34, is charged with murder. Tyler's mother, Stephanie Whelan, 27, has been charged with causing or allowing his death.
The couple, both from the Paston area of the city, deny the charges.
Christopher Donnellan, prosecuting, told the court Tyler had been subjected to earlier attacks.
The youngster had suffered "non-accidental" injuries including a broken leg in the year leading up to his death, he said.
On the day he died, Tyler was covered in severe bruises after he had been kicked, hit and bitten by Lee, Mr Donnellan added.
Mr Lee has admitted manslaughter but denies murder.
Ms Whelan, Tyler's mother, denies causing or allowing a child's death.
'Blunt force trauma'
Doctors were so concerned about an incident in June the previous year in which Tyler suffered a broken leg that they contacted social services, Mr Donnellan said.
But it was later decided no intervention was needed.
Mr Donnellan told the court Ms Whelan knew Mr Lee was capable of violence as she had suffered a series of attacks herself.
Doctors at Peterborough City Hospital tried to resuscitate Tyler for 20 minutes on the day he died.
Tyler died from a number of injuries such as a blunt-force trauma to the head and abdomen, suffered a few hours before he was taken to hospital, Mr Donnellan said.
"Only two adults were responsible for his (Tyler's) care that morning," he told the court.
"Mr Lee, from his plea of guilty to manslaughter, accepts he caused those injuries."
Lee and Whelan both deny three further counts of cruelty, relating to their alleged failure to quickly seek medical treatment for earlier injuries.
The trial at Cambridge Crown Court is expected to last up to five weeks.