Tyler Whelan death: Mother denies partner was violent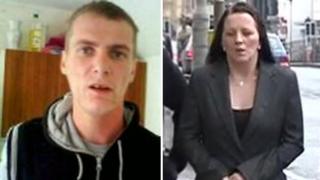 The mother of a five-year-old boy who died of head and stomach injuries has denied ever seeing her partner violent towards children.
Tyler Whelan died in hospital on 7 March 2011 after collapsing at home at Paston in Peterborough, Cambridge Crown Court heard.
Elvis Lee, 34, denies murder. Stephanie Whelan, 27, the boy's mother denies causing or allowing his death.
The boy was admitted to hospital three times and doctors told social services.
In a statement read to jurors, Ms Whelan said Mr Lee had seemed "normal" on the day her son died.
'So special'
When she was told Mr Lee may be responsible for her son's death, she said: "If he's the one that hurt my baby, I want him dead.
"My little boy didn't deserve it. He was so special, he was my rock.
"All week Elvis has been comforting me over my loss. How can he comfort me if he did it?
"I fell in love with this man and we were the only ones in the house with Tyler.
"He was always so nice to the kids. Why would he hurt my baby?"
When she was informed her son had been bitten on his left leg the day before he died, Ms Whelan told police that she would have never let Lee into the house if she had known he would hurt a child.
Asked how she thought Tyler had died, she said: "My presumption is that he fell off the side of the breakfast bar.
"It was just a horrible accident."
The court has been told she had a "love/hate relationship" with Mr Lee who was on an anger management course.
He had hit her in the past but she told police she had never seen him hit a child, the court heard.
Prosecutor Christopher Donnellan said the boy had suffered "non-accidental" injuries including a broken leg and injuries to his penis in the year leading up to his death.
Mr Lee and Ms Whelan, originally from Wigan, both deny three further counts of cruelty relating to their alleged failure to quickly seek medical treatment for earlier injuries.
The case continues.