Fitzwilliam Museum £18m theft: Ports and airports on alert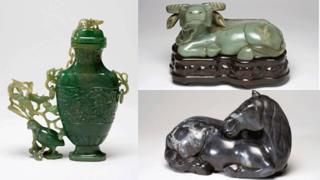 Ports and airports have been alerted in a bid to prevent a stolen hoard of rare Chinese artefacts leaving the country.
Thieves stole 18 items in a raid at Cambridge University's Fitzwilliam Museum at around 19:30 BST on 13 April.
The artefacts, thought to be worth at least £18m, are described by police as being of "great cultural significance".
Detectives said identifying potential markets was a key line of inquiry but have refused to say whether they think the items were stolen to order.
Det Ch Supt Karen Daber, of Cambridgeshire Police, said: "We have contacted enforcement agencies at ports and airports nationwide.
International inquiry
"The location of the items is central to us tracing the offenders and these measures were put into place very soon after the theft.
"We are keeping an open mind about their intended destination.
"It is possible the items have already left the country and we have circulated details to police forces internationally."
Police believe a white van was used in the raid which involved up to four offenders.
The vehicle is thought to have been stolen from Ellesmere Street in Tower Hamlets, east London, at about 08:30 BST on 7 April.
Among the stolen items in Cambridge were six pieces from the Ming dynasty, including a jade 16th Century carved buffalo, a carved horse from the 17th Century and a green and brown jade carved elephant.