Holocaust survivor's life celebrated in Cambridge ballet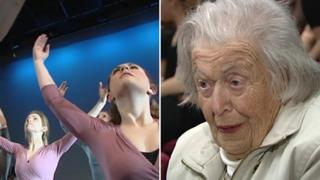 The 95th birthday of a Holocaust survivor is being celebrated in a ballet created for her by youngsters from Cambridgeshire.
Anka's Story was inspired by Anka Bergman, who today lives in Cambridge with her daughter, Eva Clarke.
The ballet was composed by 18-year-old Alex Cook, and choreographed by sisters Bryony Garner, 20, Emily Garner, aged 18, and their mother Helen Garner, who is head of dance at Hills Road Sixth Form College in the city.
Performed by a troupe of young dancers it recalls how Mrs Bergman, a law student in Prague at the time of the German invasion of 1939, lived through six years under Nazi rule.
Together with her husband, Bernd Nathan, a German-Jewish architect, she was sent to Terezin (also know as Theresienstadt), a transit camp for the Auschwitz death camp.
Although the sexes were segregated, Mrs Bergman managed to meet with her husband, and became pregnant.
She volunteered to follow her husband when he was transferred to Auschwitz.
'Typhoid and lice'
By the time the baby was ready to be born, 27-year-old Mrs Bergman's husband was dead and she was being transferred by train to KZ Mauthausen-Gusen in Austria, one of the largest labour camp complexes in German-controlled Europe.
Eva was born on 29 April 1945 in the back of a farmer's cart, weighing just a few pounds and surrounded by "women with typhoid fever and covered with lice".
A few days later, Mauthausen was liberated by American forces.
After the war, Mrs Bergman remarried and the family moved to the UK.
It was her daughter, Eva Clarke's, tireless work educating school students about the Holocaust, that inspired the youngsters to create the ballet telling the story of the pair's survival.
'Vivid memories'
"I first heard their story when Eva came to our school, and then I saw her on stage at the Cambridge Holocaust Memorial Day," said composer Alex Cook.
"It could have been like a novel or something. It was so beautifully crafted, but it was true.
"When I started writing I never thought it would be a ballet, but it's been wonderful to see people interpret the music in a different way."
He said the story had inspired his music, and he hoped the ballet would be a fitting tribute.
Mrs Bergman and Mrs Clarke both attended rehearsals for the ballet.
"I find it very flattering that anybody would be interested at all," Mrs Bergman said.
"For these children it's history, like Napoleon or something.
"It's so long ago and I haven't forgotten it, but why should anybody else be interested?
"For me it's as vivid as it can be and I have not forgotten anything."
She added: "I don't know anything about ballet, but it really meant something, what they were doing."
Anka's Story has been produced by Cambridge-based Keystage Arts and Heritage, a company that works with schools to explore history through music, dance and drama.
It is being presented on 28 and 29 April at Robinson Theatre, Hills Road Sixth Form College, Cambridge.