Tyler Whelan death: Murder accused Elvis Lee admits leg bite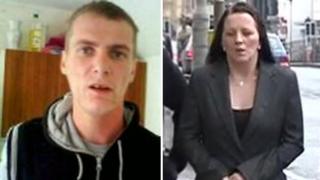 A man accused of the murder of a five-year-old boy in Peterborough has admitted in court he bit the child's leg and kicked him.
Tyler Whelan died in hospital on 7 March 2011, after collapsing at home at Paston in Peterborough, Cambridge Crown Court has heard.
Elvis Lee, 34, denies murder. Stephanie Whelan, 27, the boy's mother, denies causing or allowing his death.
Mr Lee said he found Tyler crouching behind an armchair and bit his leg.
He said Tyler tried to pull away and, having been placed on the armchair by Mr Lee, fell off.
Mr Lee said he was really angry and kicked him.
Cruelty charges
They boy's left side hit a door and door frame and he knew Tyler was winded because he stuttered and "made a gasping sound", the court heard.
Ms Whelan cried loudly during Mr Lee's evidence and was led away from the dock.
Prosecutor Christopher Donnellan has said the boy suffered "non-accidental" injuries including a broken leg in the year leading up to his death.
Mr Lee and Ms Whelan, originally from Wigan, both deny three further counts of cruelty relating to their alleged failure to quickly seek medical treatment for earlier injuries.
The case continues.