Chittering murder: Missing poker sought by investigators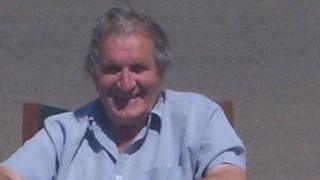 Detectives investigating the murder of a 76-year-old man in Cambridgeshire confirmed they are looking for a poker which may have been the murder weapon.
Llywelyn Thomas was found dead in the bedroom of his home in Chittering on 18 December, following a botched burglary.
Det Ch Insp George Barr said Mr Thomas was struck in the back of the head by a poker or crowbar but a poker is missing from the victim's home.
Following a BBC One Crimewatch appeal, 10 calls were received about the case.
Police believe Mr Thomas was murdered on the night of 17 December between 21:24 GMT and about 22:20 GMT.
'Encouraging response'
Mr Barr said his killer or killers inflicted "an unbelievable level of violence against an elderly gentleman".
"I cannot emphasise enough how unnecessary the level of violence was," he said.
Investigators had been encouraged by the response to the Crimewatch appeal, Mr Barr said, but added it would take time to work through the information received.
Officers are now following up on calls about Mr Thomas' silver Rover 75 estate car, which was stolen during the burglary and later found dumped in Church Lane, Milton.
Information was also received about three "very distinctive" watches taken from the house.
Mr Thomas, a retired farmer, had moved to the area from south Wales 12 years ago to be nearer his family.
His son, Richard, referred to his father as "one gentle old boy" and has urged people with information about the crime to contact police.
Rewards totalling £50,000 have been offered for information leading to the conviction of those responsible.
The family is offering £20,000, Crimestoppers a further £10,000 and Cambridgeshire police £20,000.