Healthcare worker education centre opens at Cambridge hospital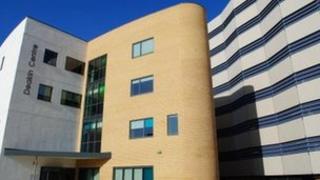 A £6m education centre designed to train the next generation of healthcare workers has opened in Cambridge.
The Deakin Centre at Addenbrooke's Hospital is run jointly by Cambridge Regional College (CRC), the county council and the hospital trust.
Training facilities include hospital beds, specialist lifting equipment and a nutrition studies kitchen area.
CRC principal Anne Constantine described it as a "unique facility in the country for young care learners".
The four-storey building is shared by the college and Addenbrooke's Hospital.
Facilities for students are located on the lower floors, with specialist training areas for hospital staff occupying the top floors.
Dr Mary Archer, who chairs Cambridge University Hospitals NHS Foundation Trust, said the centre was built to fill a gap in specialist vocational training in the health and social care sectors.