Beaten blind cat dumped in Cambridgeshire clothes bank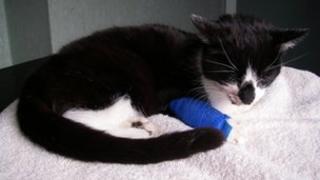 A cat was so badly beaten before being dumped in a clothing bank at a Cambridgeshire recycling centre, it had to be put down, the RSPCA has said.
The female cat, believed to be less than a year old, was discovered when the dumpster, in March, was emptied.
Inspector Jon Knight, said it was found with "horrific injuries" including a broken jaw, it was blind in both eyes and had severe neurological damage.
He said it was a "nasty and malicious incident" and appealed for information.
He added: "This cat had a host of life-threatening injuries.
"Although they could be consistent with a road traffic accident, my gut feeling is she was actually kicked or beaten."
'Fighting for life'
He estimated the cat had been in the dumpster, at a Tesco store in Hostmoor Avenue, for at least 24 hours.
"We have to consider the fact that she was beaten and kicked, and then her tormenter dumped her in the clothes bin, while she was still fighting for her life," Mr Knight said.
The cat was taken to a vet but the RSPCA said its injuries were too severe and it was put to sleep to prevent further suffering.
"This poor cat must have been put through hell, and the RSPCA wants to find the person who did this," said Mr Knight.