Gymnastics club opened by Olympian Louis Smith in Cambridge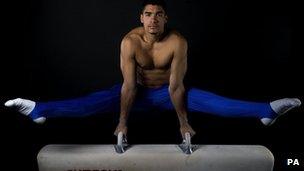 A new gymnastics club has opened in Cambridge to cater for the growing number of youngsters wanting to take up the sport.
Kayleigh Plaza, of Cambridge Gymnastics Academy, said some other clubs in the county had a one-year waiting list.
She said she hoped it would attract more boys to a sport often considered "girlie".
The club, at The Manor Community College, was opened by British Olympian Louis Smith.
Miss Plaza, head coach and director of the academy, said: "We really want to eliminate the stigma attached to gymnastics - that it's a predominantly female sport.
"Even if they decide gymnastics is not for them, it's a wonderful discipline for all sorts of other sports."
She put the popularity of gymnastics down to the success of local gymnasts, including 23-year-old Smith and Daniel Keating, both of whom train at the nearby Olympic Gymnastics Club in Huntingdon.
Smith became the first British man to win an Olympic gymnastics medal for a century when he won bronze on his specialist piece of apparatus, the pommel horse, in Beijing four years ago.
Keating, 22, won Britain's first ever gold medal at a major at the 2010 European championships.
The club is a registered member of both British Gymnastics and Eastern Counties Gymnastics Association and has a number of fully qualified coaches up to national level.
Related Internet Links
The BBC is not responsible for the content of external sites.