Cambridge Airport reinstates scheduled flights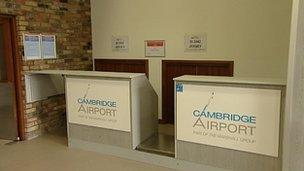 The first scheduled flight for more than five years is due to take off later from an airport in Cambridgeshire.
The hour-long flight to and from Jersey will operate every Saturday until mid-September from Cambridge Airport.
The new route will be run by Channel Islands-based airline, Blue Islands.
The airport is hoping to expand its European short-haul operations, including flying to Dole-Jura hear Dijon in France starting on 2 July.
Archie Garden, director of the airport, said: "Our plans were starting passenger services next year, so this has come a year earlier than anticipated.
"We have all read the horror stories of long delays at major airports and I can tell you there is nothing better than using a local regional airport.
"Not more than about 30-45 minutes in the terminal at Cambridge, both arriving and departing, is a remarkable contrast to the time spent in the terminals of much bigger airports."
Cambridge Airport is part of the Marshall Group, a private family business.
Related Internet Links
The BBC is not responsible for the content of external sites.