Care team's failure to save Tyler Whelan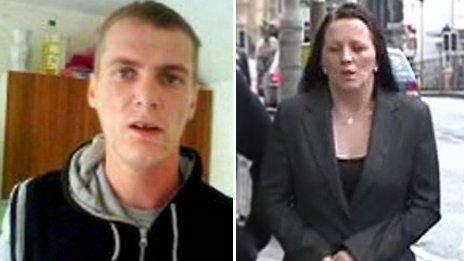 Social workers had been alerted about previous injuries suffered by five-year-old Tyler Whelan but no apparent action was taken to protect him.
Tyler died in hospital on 7 March 2011 after collapsing at home in Paston, Peterborough.
He had suffered "blunt force trauma" to the head and abdomen, Cambridge Crown Court heard.
Elvis Lee, 34, was found guilty of murder. Stephanie Whelan, 27, the boy's mother, was found guilty of allowing or causing his death.
Claire Johnson, who lived on the same estate as Lee and Ms Whelan, knew Tyler. She had noticed his bruises and was worried when he broke his leg.
"He (Tyler) was in the park with his mum with the broken leg and they said he'd fallen down the stairs. But it rang alarm bells," she told the BBC.
"I spoke to his sister and she said a social worker had already spoken to her.
"But I still, just to be on safe side... rang the duty social worker and passed on my concerns.
"I said I was a little bit concerned. It may well be that he didn't accidentally fall down the stairs. He's had quite a lot of bruises in the past and the social worker said leave it with us we'll look at it."
Children's Services in Peterborough said it could not find a record of Ms Johnson's call.
But why did Tyler die when the department had been alerted many times? Doctors had contacted social workers about his injuries.
Labour member of Peterborough City Council John Shearman said: "There are a number of failings, I can just pick on a few of them.
"First of all the referral system was inadequate.
"Secondly the recording system for social workers was archaic and cumbersome.
"Thirdly there was very poor management of the social workers and fourthly - and perhaps most important of all - there was a tremendous overload of cases."
Tyler died in the midst of four critical reports on Children's Services.
A new report has been completed and is due to be published shortly.
Peterborough Childrens' Services said it would be commenting later.
Related Internet Links
The BBC is not responsible for the content of external sites.