Triangle-playing world record set in Godmanchester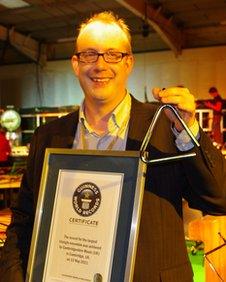 More than 120 young percussionists from Cambridgeshire have set a new world record for the most triangles struck at one time.
The previous Guinness World Record of 550 was set in 2004, but on Sunday 574 triangles were played.
The attempt was made in an Olympics-inspired concert by youth orchestra Striking Together, at Wood Green The Animals Shelter in Godmanchester.
Guinness World Records was there to verify the new record.
Mark Aldous, the composer and conductor behind the world record, said: "The sound of 574 triangles all being struck at one time was amazing and it was fantastic to break the world record."
The orchestra, which is made up of eight to 19-year-olds, was set-up five-years-ago by Cambridgeshire Music, a county council-led scheme to develop music in schools and community groups.
The record-breaking event is one of a number of projects forming part of the London 2012 Inspire programme, a scheme encouraging volunteers and community groups to take part in local events and link them to the Olympic Games.
Related Internet Links
The BBC is not responsible for the content of external sites.