Network Rail Foxton level crossing 'fix' promised by July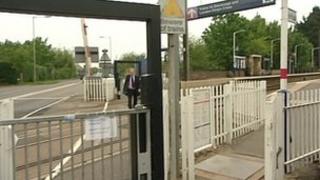 Campaigners calling for improvements to level crossing gates in Cambridgeshire have been told by Network Rail they will be fixed by the end of July.
Residents in Foxton said the pedestrian gates had been faulty for 18 months.
In February Network Rail said upgrading the crossing would be a "priority" after two girls said they had become trapped when the locking system failed.
A spokesman admitted work had been slow but said the lock controls would be fixed by 30 July.
In February, Dave Ward, route managing director for Network Rail's Anglia region, said engineers would upgrade the locking mechanism "as soon as possible".
However, he admitted the speed with which "major improvement works" had been carried out had only been "adequate".
'Later than promised'
"It would have been nicer to have done it more quickly, but there have been some technical reasons why there has been a slight delay," he said.
Speaking after a meeting arranged by the Meldreth, Shepreth and Foxton Rail User Group on Tuesday, Mr Ward said: "I have to accept that I set my people timescales that push at the bounds of what is reasonable, in many respects.
"If I don't have a supplier willing to do that work, then it is difficult to accelerate it.
"We now have a supplier and it will be completed on 30 July."
He said Network Rail had already completed work on footpaths and "refurbished" the pedestrian gate locks.
Liberal Democrat County Councillor Susan Van Der Ven, who heads the rail user group, said she was encouraged by the meeting.
"Mr Ward has committed to a date. It is about three months later than promised but I am confident that it will happen," she said.