CCTV for Wisbech Waterlees vandal-hit play park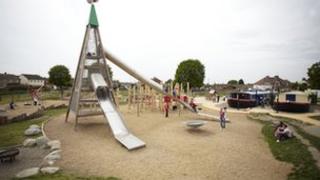 CCTV is to be installed in a children's adventure playground in Cambridgeshire, which local residents claim has attracted vandals to the area.
Since the £1m playground in Waterlees, Wisbech, opened in 2010 they claim vandalism has blighted their lives.
Now Cambridgeshire County Council is planning to install £85,000 of cameras and lighting to improve security.
Park manager Jane Leet said the improvements would help the police patrol the area more effectively.
Alan Lay, who lives near the park, said: "People have had their cars scratched and eggs thrown at their windows.
"There have also been a number of fights and fencing around the park had been destroyed."
'Quiet backwater'
Another resident said the vandalism had become so bad she was having to sell her home.
"When I first saw the plans for the park, I said it would be a magnet for all the morons and undesirables," she said.
"I've been here 20 years and it was a lovely quiet little backwater.
"I love my house but I just don't want to be here. I hate it."
Virginia Bucknor, a Wisbech town councillor, said there had been "about 50 meetings" to discuss residents' concerns.
"To be fair, the majority of problems were in the past and it has improved, although there are still issues on some evenings," she said.
Insp Robin Sissons, from Cambridgeshire Police, said: "We have been heavily involved in this project and believe it is good news for the area.
"There will be low-level lighting at certain times of night which won't have an impact on residents living nearby, but will provide security for the young people in the play park."
The two cameras will be connected to Fenland District Council's control room and will be monitored 24 hours a day.