Inspectors 'dismayed' by activities for HMP Littlehey inmates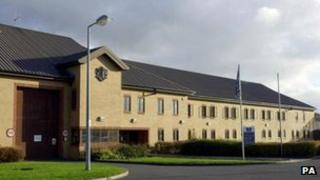 The lack of activities for inmates at HMP Littlehey and its young offenders' institution (YOI) in Cambridgeshire has been highlighted in a report.
The Independent Monitoring Board (IMB) said it was "dismayed" to find 20% to 25% of prisoners sitting in their cells during the working day.
However, the board recognised a "positive atmosphere" and good prisoner-staff relationships.
A Prison Service spokesman said it would respond in due course.
The IMB report stated: "The relationship between staff and prisoners is so different to last year, and it is to be highlighted as the board recognises the hard work which has gone into developing these relationships.
"Compared to observations made in the last reporting year, the prison feels to be a safer environment now."
Useful skills
However, it said that despite improvements, the board was "concerned" that a large number of prisoners were not assigned to any activities, either work or education and training.
The report also pointed out that HMP Littlehey had not yet met the government agenda regarding a core 37-hour working week for any of its category C prisoners.
It was also critical of the lack of rehabilitation programmes for sexual offenders considered to be "in denial".
However, it recognised the prison's efforts to introduce inmates to skills which could prove useful on release.
These included basic literacy and numeracy, horticulture, food preparation and construction trades.
The introduction of the Duke of Edinburgh Award scheme for young offenders was considered by participants to be "a very valuable experience", the report added.
There was continued criticism of the prison's practice of adapting single cells for dual occupancy on the main wings and the drug rehabilitation wing.
The report said this was "unacceptable" and the board would "continue to raise this as an issue until it is resolved".
A Prison Service spokesman said: "The Independent Monitoring Board's report into HMP Littlehey will be considered by ministers, and we will respond in due course.
"We are making prisons places of hard work where prisoners use their time constructively to address the root causes of their offending behaviour," he said.
"This means they are less likely to commit further crimes and create further victims when released."