Recycled torch relay completed in Cambridgeshire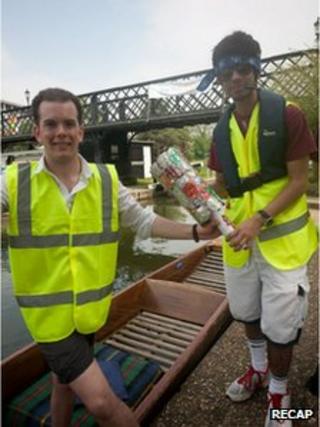 An alternative torch relay has taken place in Cambridgeshire using a baton made from old tin cans to encourage more people to recycle metal.
The Yes You CAN! relay involved 500 people passing the baton from St Ives through Cambridge and to Peterborough.
It was organised by Recap, a Cambridgeshire and Peterborough recycling organisation.
Children from local schools were also involved in the relay and were given talks on the importance of recycling.
Jane Green, head teacher at Waterbeach Community Primary School said: "It was really fun to take part in the relay with the entire school.
"It was an extraordinary assembly and the children were very excited that they could all pass the baton.
"It is an impressive piece of metal artwork and shows all types of cans people can recycle."
Councillor Peter Murphy, chair of Recap, said: "In Cambridgeshire, we recycle 7,000 tonnes of metal every year which is impressive, but over half of all metal waste from households in the county is still being put in black bins and sacks.
"I'm sure many cans and biscuit tins will be emptied in the preparation for the celebration of the Jubilee weekend - let's make sure we recycle them all."