Diamond Jubilee: Street party held in the Antarctic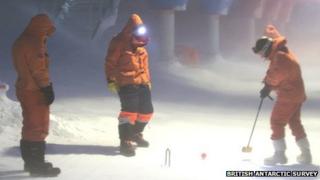 Scones, jam, fairy cakes and bunting are the typical fare of a Jubilee street party.
But when it is being held in Antarctica at temperatures up to -45C (-49F), celebrating the Queen's Diamond Jubilee in style can be quite a challenge.
Blizzards and 24-hour darkness, however, are not enough to put off members of the Cambridge-based British Antarctic Survey (BAS) team.
The 17 scientists and support staff at Halley Research Station held what they refer to as "the world's coolest Diamond Jubilee street party" at their base, more than 8,700 miles (14,000km) away from the UK.
Weather permitting, the party will be followed by "a very British cricket match" to remind the team members - who spend a minimum of six months on the frozen continent - of home.
The station's chef faces the mammoth task of catering for a Mad Hatter-themed tea party, while staff get into the spirit of the celebration by dressing in Alice in Wonderland costumes.
'Extreme conditions'
As a major research centre for the Natural Environment Research Council (NERC), BAS carries out most of Britain's research in Antarctica looking into global issues including climate change, space weather and biodiversity.
Its researchers discovered the hole in the ozone layer which led to an international ban on CFCs which were discovered to be causing the hole.
As well as its Halley station, BAS has scientists manning a research base at Rothera in the Antarctic Peninsula and three further stations in South Georgia and Signy Island.
At this time of year, the average temperature at Halley is -20C (-4F), which can fall to -45C (-49F) taking into account the wind-chill factor.
Because of this - and the fact that it is mid-winter with no daylight - the team will be holding its Jubilee street party indoors.
"The extreme conditions won't put anyone off celebrating the Queen's 60-year reign," Athena Dinar, from the BAS, said.
"Despite the stereotypes, scientists are incredibly creative, and the chefs even more so.
'Cucumber sandwiches'
"They make the very best of whatever is available, which at this time of year comes mostly out of tins and packets.
"While there will be bunting, flags, scones, cakes, jelly and ice cream, the one thing they can't serve is the traditional cucumber sandwich. Fresh produce is very limited there at the moment," she said.
Meanwhile, staff at Halley have been busy creating costumes for their Mad Hatter's Jubilee party.
Each of the BAS's five stations has a dressing-up box full of costumes, material and ribbons.
"There's no television in the Antarctic, so people have to make their own entertainment," Mrs Dinar said.
"Nor are there holiday weekends, but when anyone has any down-time, they just want to have fun."
See all the latest Diamond Jubilee news and features at bbc.co.uk/diamondjubilee