Cambridgeshire County Show cancelled because of rain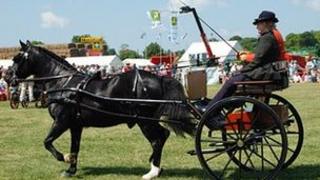 The 14th Cambridgeshire County Show, due to be held on Sunday, has been cancelled because of the wet weather.
The agricultural show was due to be held at Wimpole Home Farm, a National Trust property, near Royston, but the high rainfall has meant the site is already waterlogged.
The event organisers said it was with "great regret" they were cancelling the show.
The organisers said next year's event would take place on Sunday 2 June 2013.
Stephen Eayrs, show chairman, said: "The safety of our visitors and exhibitors and the protection of the Farm with its cropping and livestock schemes, are of paramount importance and with the ground already waterlogged and more rain forecast for the next few days the decision to cancel the event is the most responsible way forward."