Hinchingbrooke Hospital future questioned after £33m loss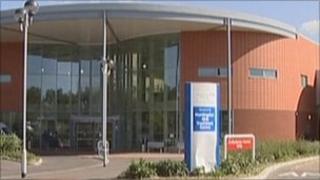 The private company running Hinchingbrooke Hospital is "already in trouble" after recording pre-tax losses of almost £33m, a union has claimed.
Circle Health has run the Cambridgeshire hospital, which had debts of nearly £40m, since February.
Phil Gooden from Unison called for NHS managers to be brought back in.
A Circle spokesman said its losses reflected the fact it was "investing for the future" and "transforming" its hospital in the process.
Hinchingbrooke became the first NHS hospital in the country to transfer its day-to-day running to a private company.
Circle also manages five private hospitals and registered a pre-tax loss of £32.9m on revenues of £74.6m in 2011.
'Intervention'
In order to pay off all of Hinchingbrooke's debts, it has been calculated that Circle would need to generate a surplus of £70m over its 10-year contract period - but this would vary depending on how much profitable income varies over those years.
However, Circle claims it is on target to make £10m in savings at Hinchingbrooke in its first year and is on course to balance the books.
Mr Gooden said: "We've consistently highlighted concerns... and only four months in, it's clear Circle has already got problems.
"Nobody ever expected them to turn the hospital around in four months but turning it around, and making a profit, is their problem."
He added: "If Circle cannot fulfil its obligations to its shareholders and the tax payer, perhaps there should be an intervention from the secretary of state sooner, rather than later, and NHS managers brought back in.
"Our concerns are that there could once again be uncertainty over the future of the hospital and that uncertainty needs to come to an end."
'Transparent'
Hinchingbrooke's medical director, Hisham Abdel-Rahman, said: "If investments are put up-front you have to incur some losses, but the longer-term vision of the company, and the services it provides, are what is important."
He said the pre-tax losses were for Circle "as a whole".
"Hinchingbrooke has its own budget that's separate from Circle as a company."
The Circle spokesman said the company had "always been transparent" and was proud of its investment in its hospitals.
"Hinchingbrooke is being transformed into one of the best district general hospitals in the country through our model of putting local doctors, nurses and healthcare professionals in charge," he said.
"Already, it has gone from having the worst to the best A&E in the region, patient safety incidents have reduced by over 70%, and cancer targets have been met for the first time in many quarters."