River Nene almost back to normal after toxic spill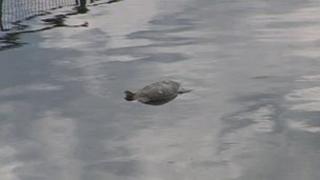 Water quality at a river in which thousands of fish were killed by a toxic spill is almost back to normal, the Environment Agency (EA) has said.
The agency has linked pesticides in the River Nene at Orton Southgate, near Peterborough, with the deaths of the fish at the weekend.
The ban on fishing in the river and The Wash is still in operation.
The agency is waiting for results of water tests to confirm the danger has passed before giving the all clear.
Shellfish fisheries in King's Lynn have stopped bringing in catches as a precaution.
Norman Robinson, from the EA, said: "We are no longer seeing fish struggling in the water and believe the worst to have passed but we are staying alert and continuing to monitor throughout the week and weekend."