Anonymous donor gives £50k for new hedgehog hospital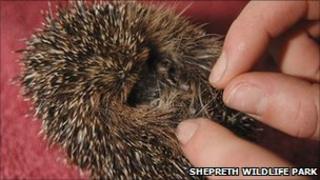 A hedgehog hospital will be built ahead of schedule thanks to a £50,000 loan from a supporter of the charity building it.
Shepreth Wildlife Park in Cambridgeshire received the 10-year interest-free loan from a person who wished to remain anonymous.
Raising funds for the hospital was expected to take "a number of years".
Curator Rebecca Willers said: "It's a lifeline as we take in hundreds of hedgehogs and need the hospital now."
Sick hedgehogs and abandoned baby hedgehogs are brought into the park from across the region.
Dilapidated shed
Miss Willers started a charity last year to raise the estimated £70,000 needed to build and equip the new facility.
The loan will pay for the construction and the charity has raised a further £15,000 towards specialist veterinary equipment.
Expected to be operational in the autumn, it will replace a dilapidated shed currently being used as a makeshift hedgehog hospital.
The park contributes to conservation projects working with endangered species throughout the world and has managed a hedgehog rehabilitation programme for 25 years.
"One of the biggest burdens is the hundreds of hedgehogs we get each winter," Miss Willers said.
"We desperately needed a hedgehog hospital in the region, but it was not something we could afford."
She added that research indicated hedgehogs were dying out at a rate of one fifth of the population every four years.
"What we will have is not just a hospital," Miss Willers added.
"We are looking into serious research to conserve the hedgehog population."