Peterborough PFI hospital managers criticised by regulator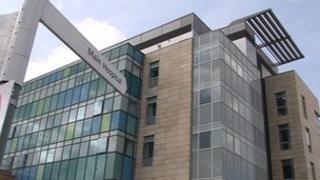 Management failures at the PFI-funded Peterborough City Hospital led it into deficit by up to £56m, a report says.
Independent regulator Monitor said Peterborough and Stamford NHS Trust did not fully consider the risks of private finance initiative (PFI) funding.
It said the board was unaware of the level of deficit at the £335m hospital, as its 2010-11 budgets were inaccurate.
The trust said it acknowledged its shortcomings and "new systems to improve forecasting" were now in place.
The Monitor report stated that "management had failed to track assumptions in the PFI business case and include realistic figures in their financial projections".
"Accordingly, their budgets did not reflect a realistic expectation of actual events and costs after moving into the new hospital at the end of 2010," said the report.
'Robust finances'
The PFI agreement was signed in June 2007, six months after Monitor had written to the trust expressing concern about the affordability of its proposals, financial models and assumptions.
However, the trust responded by saying it was confident its financial predictions were "robust".
Four months after Peterborough City Hospital opened it needed £10m from the Strategic Health Authority to cover overspend, which it blamed on the cost of new equipment and unexpected demand on its accident and emergency department.
At the end of February 2012 it received £46m of government cash to cover running costs.
This was in addition to the government bailout for hospital trusts struggling to pay PFI debts, which was announced earlier that month.
A spokesperson from the trust confirmed the hospital may need a further government bailout of up to £50m by the end of the 2012-13 financial year.
'Unaffordable PFI'
Dr Peter Reading, interim chief executive of Peterborough and Stamford Hospitals NHS Foundation Trust, said: "The agreement was signed in 2007 when few predicted the world-wide economic problems which came soon after, and which have completely changed the climate in which the trust is operating.
"Although the report correctly cites a failure by the trust to foresee financial problems, it has to be recognised that some of those were beyond anyone's control."
He added: "It has been acknowledged at a national level that our PFI is unaffordable.
"The trust is waiting to hear whether it will receive additional support from the Department of Health to meet the PFI costs in this financial year."
A Department of Health spokesperson said: "This report underlines the burden of PFI debt that a small number of trusts are currently struggling with."