Cambridge's Asbo swan 'champion' wins court cost appeal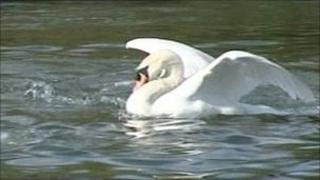 A man whose support for an aggressive swan landed him with a £6,871 legal bill, is celebrating after the High Court ordered a review of costs.
Robin Middleton, who lives on a barge on Cambridge's River Cam, became well-known for attempting to protect the swan, known as Mr Asbo, from rowers.
After blocking the river during a race in 2010, he was fined £150 and ordered to pay the prosecution's costs.
He said: "I am on cloud nine. I would have had to sell my home to pay that."
The case against Mr Middleton - known as Battleship Bob because of his dark grey houseboat - was brought by the managers of the river, the Conservators of the Cam.
Mr Middleton admitted two counts of breaching river byelaws when he appeared at court in August last year.
'Big Nose'
He was protesting against plans to move the swan and its mate from a busy section of the river, after a number of rowers complained they had been attacked.
Mr Middleton insisted the swan was being territorial and was only aggressive when it considered itself or his cygnets to be in danger.
Earlier this year Mr Asbo and his mate were moved to an unnamed sanctuary outside the county boundaries.
"I'm still very angry that he was taken away from his home." Mr Middleton said.
"I've been living here for 10 years and Mr Asbo - who I call Big Nose - was like my pet."
High Court judges Mr Justice Globe and Lord Justice Aikens ruled the costs imposed on Mr Middleton were "disproportionately high" and the case will now be reconsidered by magistrates.
"My only asset is my boat and I was told I would have to sell that to pay the costs, which simply isn't right," Mr Middleton said.
He said local people had been raising funds to help him pay for the case, and he hoped that money would cover any future costs.