Maria de Villota: Family 'comfort' from support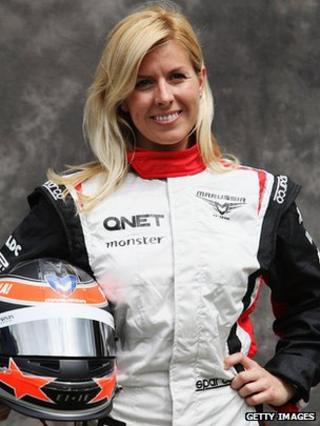 The family of Maria de Villota have said they are "taking comfort" from the support being shown to the F1 test driver.
De Villota, 32, lost her right eye after extensive surgery following a test track crash at Duxford airfield in Cambridgeshire on Tuesday.
In a statement, the family said they "remain positive due to the support for Maria from every corner of the world".
The driver remains in a critical but stable condition at Addenbrookes.
De Villota was hurt when the MR-01 race car she was driving hit a support truck.
She had been driving at up to 200mph but the car was travelling considerably slower at the time of the crash.
It was the first time the Spaniard had driven the car for the Oxfordshire-based Marussia team.
Speaking on behalf of the family, Isabel De Villota, Maria's sister, said: "While there is no further news at present, we have at least been able to take encouragement from the fact Maria has remained stable throughout since the accident, particularly during the first night following such a lengthy surgical procedure as she experienced yesterday.
"We, the family, are supporting each other here at Maria's side and we take great comfort from the remarkable medical care she has been receiving.
"We remain positive and this is due, in no small part, to the overwhelming expression of love for Maria from every corner of the world.
"We would also wish to thank everyone at the Marussia F1 Team for all the care and attention they have shown us over the past few days."
Messages of support for De Villota have come in from the motor racing world, including Ferrari driver and fellow Spaniard Fernando Alonso, Jenson Button and Lewis Hamilton.
Inspectors from the Health and Safety Executive (HSE) visited the test track on Wednesday.