World Pea Shooting Championships held in Cambridgeshire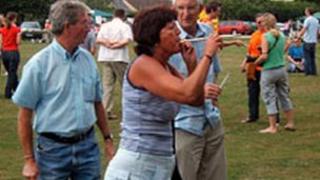 About 100 competitors took part in the World Pea Shooting Championships in Cambridgeshire on Saturday.
The event has been held at Witcham, near Ely, since 1971 and was created by local teacher John Tyson.
He was inspired by the peas and shooters he confiscated from his pupils to set up the fund-raising contest.
Competitors come from as far away as the USA and New Zealand and the winner's name is inscribed on the John Tyson Shield.
In 2011 Ian Ashmeade, from the neighbouring village of Haddenham, retained his title.
But this year the honour went to local man Rob Bresler, from the Ely area.
About £2,000 was raised from the event, which will benefit local charities.