Flying pigs' Falklands trip delayed by snowstorms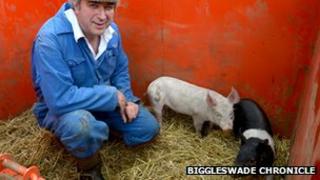 Five piglets en-route to the Falklands to refresh the island's pig gene pool have had their 18-hour journey extended by a snowstorm.
Cambridgeshire farmer Guy Kiddy's pigs are spending an unscheduled 24 hours in Chile after their flight was diverted from Mount Pleasant airfield.
Freight company director Jon Jeffery, on board with the pigs, said they were being looked after and were well-fed.
Falkland Islands vet Zoe Luxton is also accompanying the animals on the trip.
The two male and two female Hampshires and one male white left Gatwick Airport at about 17:00 BST on Tuesday, together with a number of oil rig workers.
'Laid-back pigs'
The flight refuelled at Cape Verde as planned but was then diverted to Punta Arenas, after extreme weather conditions forced the runway at Mount Pleasant to close.
Mr Kiddy had earlier described his pigs as "very laid-back animals" who would eat and sleep through the journey.
However, they have now been on board the plane for almost 24 hours.
He said: "I am a bit concerned that my pigs are not where they're supposed to be, but they are with the right people so I know they are being looked after."
Mr Jeffery, who runs Chiltern Air Freight Limited, said: "We are currently sorting out overnight accommodation for the pigs.
"They have now been on board for a while, but it's nice and warm, they have lots of food, automatic drinking water, and two engineers have stayed in the hold to keep them company until we can take them off."