Peterborough's newt 'superhighway' to cost £1.1m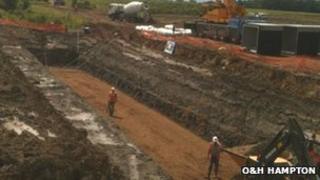 More than £1m is being spent on creating a "superhighway" for the protected great crested newt population near Peterborough.
Seven tunnels are being built by O&H Hampton at a nature reserve on its Hampton development near the city.
Roger Tallowin, general manager, said the 30m (98ft) tunnels were required by Natural England to enable the estimated 30,000 newts to safely cross the road.
He said it would ensure genetic mixing and avoid creating isolated colonies.
The tunnels are being built under what will eventually be a dual carriageway through the residential and business development to the south of the city.
Newt count
They are a mix of wet and dry routes enabling the newts to either swim or walk from one side of the reserve to the other.
"It took 18 months to receive the necessary license to clear the area of newts and water voles," Mr Tallowin said.
During that time a count of the newt population was carried out, the results of which are expected soon.
"Five years ago when we surveyed the population we know we had about 30,000 great crested newts on the site," he added.
"We're hoping that will have increased and of course the tunnels will help to further protect the species."