Cambridgeshire river flow 'unprecedented'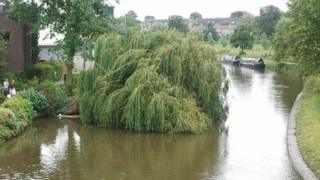 River users in Cambridgeshire have been advised by the Environment Agency to be cautious after heavy rain caused floods and "unprecedented" fast-flowing water.
A spokesman said parts of the River Cam were flowing 10 times faster than usual for the time of year.
Several locks have been closed allowing the agency to discharge excess water.
However, the annual "Bumps" rowing races will go ahead this week. The course was declared safe but it would be "a challenge", organisers said.
The races, which last five days and attract hundreds of participants, were in question after weekend rain caused flooding across many parts of the county.
On Saturday a large willow tree fell into the Cam near Midsummer Common adding to difficult conditions for river vessels.
'Strong streams'
"The tree is not actually blocking the course of the Bumps race," said Stephen Allen, from Cambridgeshire Rowing Association.
"However, some crews rowing upstream to the starting point will have to negotiate around it.
"We have checked and it is possible with care."
He added: "We are in daily contact with the Environment Agency and will constantly review the situation with regard to safety."
Dr Geoff Brighty, area manager for the Environment Agency, said: "At the moment we've got strong stream advice along the River Ouse and Cam, just to inform people that the flows are so high and it's probably not safe to navigate through our structures.
"There is a substantial amount of water coming down the catchment, and the length of the river Ouse means that water will be coming down for some days yet."
"This is really unprecedented," he added.
A number of boats moored between locks have been effectively trapped as water levels are currently too high to allow them to safely pass under locks with bridges.