Wisbech's waterfront regeneration 'delayed by recession'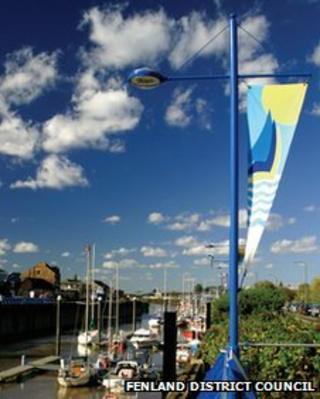 Plans to sell riverside land owned by a Cambridgeshire council to housing developers have been delayed because of the recession, its owner has said.
So far £12.4m has been spent on regenerating industrial land at Nene Waterfront in Wisbech, which is owned by Fenland District Council.
It said it was "not desperate to sell", but would wait for a "decent price".
Alan Melton, the district council leader, said £28,000 would be spent on attracting developers to the site.
The council will clear vegetation and repair, clean and paint the existing hoardings and fencing.
Cambridgeshire County Council has also agreed to fund road improvements in the area.
Long term project
Fenland District Council began planning its Nene Waterfront regeneration project in 2005.
It has spent £1.25m on the project and the rest of the funding has come from a variety of sources including the East of England Development Agency, the European Regional Development Fund and English Partnerships.
As a result the Foyer, a training and accommodation centre for up to 17 people aged between 16 and 25, and the Boathouse business centre have been built.
The port and yacht harbour have been improved and Fenland District Council has carried out decontamination works of three Brownfield sites put aside for up to 330 homes.
Mr Melton said: "In the longer term we plan to redevelop the whole site with a mixture of affordable and social homes and also a riverside marina-type development.
"We've got to work in partnership with the development industry and if necessary use our own resources as a local authority.
"We will work with a housing association, so we could do some land swap arrangements."