Louis Smith's gymnastics bronze 'like FA Cup win'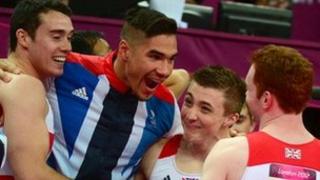 The mother of Cambridgeshire gymnast Louis Smith has spoken of her joy at her son's Olympic bronze medal - and said "nobody cares" about the confusion that surrounded the event.
Smith, 23, from Peterborough, led the team that won the first British men's gymnastics team medal in a century.
The GB team was initially in silver position but was pushed back down into third after an appeal.
Elaine Petch, Smith's mother, said: "I'm so glad for them."
Confusion initially surrounded the outcome of the event after GB were placed in the silver medal position.
They were pegged back into third after the Japanese team successfully appealed against one of its scores.
But Ms Petch said: "Nobody cares. Silver, bronze - they got a medal.
"I was just so nervous and then so excited that they got a medal.
"They've worked so hard and they really deserve it. I'm just ecstatic.
"I didn't really expect a medal but I was just hoping that they would get a medal."
Four years ago at the Beijing Olympics Smith became Britain's first Olympic gymnastics medallist for 80 years, winning a bronze on the pommel horse.
Gymnast Cameron MacKenzie, 19, one of Smith's training partners at Huntingdon Gymnastics Club, said of the latest achievement: "It was an absolutely historic result.
"To come out and beat those other teams which had been dominating for so many years, it's like Cambridge United winning the FA Cup."
Adam Scott, who coached Smith at the Huntingdon club, where the action was relayed on a big screen, said: "It was absolutely unbelievable.
"We had a summer camp on, all the gymnasts finished training at half four, sat down and watched the gymnastics on the big screen like you would do the football and the rugby, and the atmosphere was fantastic.
"The kids were going crazy, living the highs and the lows but unbelievable, a really, really memorable night."
When he was seven years old, Smith, a budding chorister, turned down a scholarship at a private school once he realised it would mean giving up gymnastics.
He first came to prominence with a gold at the 2006 Commonwealth Games and has gone on to win two bronze medals and a silver at the World Championships, as well as a third European silver in 2012.