Solar-powered interactive play area opens in Cambridge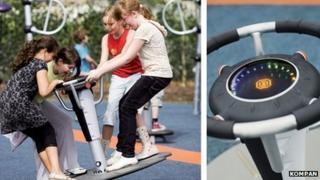 A solar-powered play area with interactive digital equipment has opened in Cambridge.
The "electronic teen zone" at Trumpington was built by playground company, Kompan, and is thought to be the first of its type in the country.
Equipment includes moving parts and video games, but can also be used more traditionally when the power is off.
The Cambridge City Council project was funded by developer contributions and cost £46,000.
Steve Allison, Kompan regional manager, said: "You can interact with each game so it's a bit like bringing your PlayStation out of your home and putting it in the play equipment.
"The council can also monitor how the young people are using the park because it's all digitally recorded.
"Because it's solar powered it's also a sustainable product," he added.
Councillor Rod Cantrill said: "Modern kids today are into electronics and we wanted to combine healthy living and activity with the sorts of things kids like to do.
"It's part of our commitment to put additional play areas in all of our green open spaces over the course of the next year or so."