Police database to hit 1m searches 10 years after Soham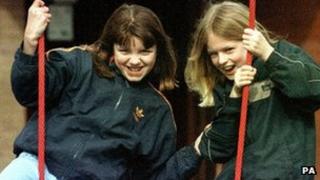 It is 10 years since the bodies of murdered schoolgirls Holly Wells and Jessica Chapman were found buried in a shallow grave near a Suffolk airbase.
Their deaths at the hands of Ian Huntley sparked a major investigation after it emerged the school caretaker had previously faced allegations of rape and under-age sex.
Now, ahead of Friday's 10th anniversary of the girls' bodies being found, one of the key recommendations of the Bichard Inquiry that followed the double murder is approaching a major landmark.
The Police National Database (PND), set up last year to ensure convicts and suspects could not hide across county borders, is set to hit one million searches.
The disappearance of the 10-year-old girls from their home town of Soham, in Cambridgeshire, prompted one of Britain's biggest police investigations and saw Huntley jailed for life in 2003.
Sir Michael Bichard, who oversaw a 200-page report into police and vetting procedures, found "deeply shocking" failures.
The creation of the database was described by the parents of Holly and Jessica as a "defining moment" to mark the passing of their daughters.
Sharon and Les Chapman, Jessica's parents, said: "We hope [the database's] use will mean other families don't suffer the same loss and heartbreak as we did."
Since being set up, the database has helped to identify potential leads in a double murder inquiry, helped police trace a missing registered sex offender and provided information on a domestic violence offender which helped officers identify a second victim.
Collectively, police forces hold information on between 10 and 15 million people.
These include convicted criminals, suspects and victims of crime, as well as the details of people who have been questioned by police but not charged.
'Leap forward'
The database combines intelligences from all 43 forces in England and Wales, bringing together 150 computer systems.
By Tuesday, the number of searches carried out by police forces using the database had reached 975,000, the National Policing Improvement Agency (NPIA) said.
The NPIA says the current rate of inquiries means it is likely to hit the one million mark by Friday - exactly 10 years on from the discovery of the girls' bodies.
Chief Constable Nick Gargan, chief executive of the NPIA, said: "When we rolled out the database, for the first time the British police service could link up intelligence that was held on individual systems in individual forces.
"It could be accessed directly by colleagues in other forces and was a major leap forward."
Consultant forensic psychologist Dr Ian Stephen said the database would help criminal profilers.
"Huntley's past would fit into the profile of a killer who commits crimes which gradually escalate in terms of seriousness," he said.
"The problem was his past was not known by detectives.
"With better sharing of information it will hopefully become easier for investigators to identify individuals who fit psychological profiles."
Soham Village College caretaker Huntley was given a double life sentence after being found guilty at the Old Bailey in December 2003.
His girlfriend Maxine Carr was also jailed for three-and-a-half years after being convicted of perverting the course of justice for giving Huntley a false alibi.
She was given a new identity following her release from prison.
Holly and Jessica, both aged 10, were found in Mildenhall, nearly two weeks after they went missing. They were murdered at Huntley's home in Soham.
The Reverend Tim Alban Jones, of St Andrew's Church, in Soham, said the church did not plan to mark the 10th anniversary of the grim discovery.
"It is very much a time for the families," he said.