Louis Smith and Sam Oldham's Huntingdon gym plans expansion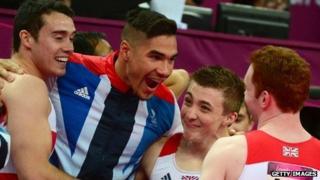 When Louis Smith and Sam Oldham won Olympic medals at London 2012, it was a moment of pride for Huntingdon Gymnastics Club.
Smith and 19-year-old Oldham, who both train at the Cambridgeshire gym, were part of the team which won bronze at the Games - Great Britain's first Olympic team medal since 1912.
Smith, 23, then followed that success with a silver in the pommel horse event.
Now the Huntingdon club is focusing on developing a legacy for the next generation of Olympic stars, as well as coping with a surge in applications from all ages.
'Talent rubs off'
Head coach Paul Hall, who has just returned from a six month secondment with Team GB, said he hoped the success of Smith and Oldham would inspire others.
"Louis and these guys are very, very motivated and also grounded by the fact they're in a normal club and working alongside normal people.
"They're just Louis and Dan and that talent rubs off on the other people."
Another coach at the club, Adam Scott, said the phone had been ringing constantly since the Olympics.
Before the Games the club was averaging 30 to 40 bookings a week for its children's taster session, but last week it ran sessions for 170 children.
Mr Scott said he was also surprised by how many adults were getting in touch.
"Most of our adults are 16 to 30-years-old," he said.
"But we've got guys who are in their late 40s and early 50s and they've still got that desire to succeed and improve themselves."
The club currently runs three classes for adults and it wants to introduce more.
But the 30-year-old gym is already at capacity, with elite athletes training alongside mother and toddler groups.
Key to its hopes for building on the London 2012 success is an extension.
Mr Scott said most clubs which train to the highest level have two gyms.
But the Huntingdon club has had to learn lessons from its experience after the Beijing Olympics when Smith won a bronze on the pommel horse in 2008 - Great Britain's first individual gymnastics medal since 1908.
Then Daniel Keatings, another one of the club's gymnasts, won a silver at the World Championships in 2009.
On the back of this success the club developed an ambitious £4.3m expansion scheme, but by 2011 it had failed to secure the necessary funds.
Mr Scott said its current expansion plan was "much more modest" and would cost about £600,000.
The club has secured the first £200,000 for the build, but "a lot of work is going on behind the scenes" to raise the rest of the money.
Mr Scott said: "We're much more realistic now about having to go out there and get that funding.
"We're very blessed to have a very good pro-active set of trustees behind us, volunteers from the community really pushing our cause."
Mr Scott also hopes the club can offer extra training sessions at local leisure centres and schools.
"They'll still be run by the same coaches, so with the same high quality coaching but in a different facility," he said.
The coach added: "Although we've always had good elite level gymnasts, we feel we can do a lot more for the community and get more young people into the gym. And find the next generation as well."