Cambridgeshire police stations could be sold by cash-strapped force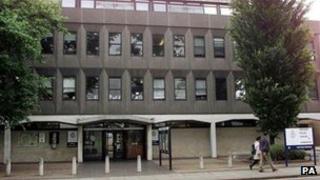 Plans to sell off police stations in Cambridgeshire to plug a £10m funding gap have been described as "economic madness" by a local councillor.
The police authority is considering proposals to sell three, relocate five and to share a further four stations.
Jonathan Chatfield, who represents Histon, said residents were "shocked" that their station might be sold.
Ruth Rogers, chair of the authority, said usage needed to be reviewed and no decision would be made until January.
The Cambridgeshire force has had to save about 20% by 2015 as a result of the government's spending review in October 2010.
'Real loss'
Proposals include selling stations in Bridge Street in Peterborough, Papworth and Histon, together with land in Bretton and at the force's headquarters in Hinchingbrooke.
Premises in St Ives, Yaxley and Sawtry, described as "under-utilised", are to be considered for sharing with partner organisations or community groups.
Wisbech station is also being considered as a shared base.
Stations in Chatteris, Orton, Werrington and Bottisham could be relocated.
Long-term plans to relocate Cambridge's Parkside station to a more accessible part of the city are still being considered.
Mr Chatfield, a Liberal Democrat who represents Histon and Impington on South Cambridgeshire District Council, said: "The community is quite shocked and stunned at the possibility that we might lose our [Histon] police station.
"For neighbourhood and community policing to mean anything you have to be able to contact your local officers. It would be a real loss to the village and we're going to fight this hard.
"It's economic madness to get rid of a building like this that was only rebuilt recently," he added.
Ms Rogers said: "We are looking at the future, what the needs might be, where the use is and where it isn't.
"Any organisation that owns estate does a review on a regular basis and we are no exception to that."