Baby Faith Lovemore death: NHS 'failed to spot' danger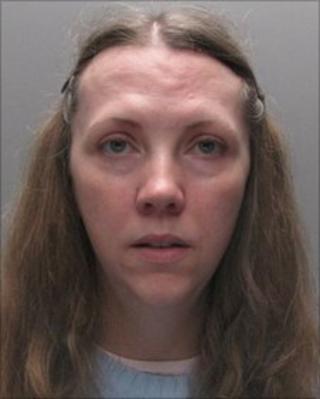 Health workers failed to spot risks posed by a mother who stuffed pages of the bible into her six-week old daughter's mouth before killing her.
Julia Lovemore, who had "religious delusions" and bipolar affective disorder, smothered her daughter, Faith, in 2009.
A report found Cambridgeshire and Peterborough NHS Trust failed to recognise the threat posed by Lovemore.
The trust said it was "critical" it learned from the experience.
Lovemore, 41, was detained indefinitely under the mental health act in 2010 after admitting manslaughter on the grounds of diminished responsibility at Cambridge Crown Court.
'Take the devil'
The trial heard two health workers were at Lovemore's home in The Rowans, Milton, near Cambridge, on the day Faith died.
A health visitor and a psychiatric nurse had been concerned about the behaviour of Lovemore's husband, David.
When they arrived at the house they found him praying loudly and shouting for God to "take the devil out of Julia".
He refused to answer questions and they left to consult experts. Later that day, Mr Lovemore turned up at his GP's surgery carrying Faith's lifeless body.
The newly published report was commissioned by NHS East of England Strategic Health Authority.
It concluded confusion over Lovemore's "religious delusions" had distracted from the need to protect Faith and her sister, who was unharmed.
"There was a failure to collectively recognise the extent to which this family were a risk to their children once they were mentally unwell, and to act more assertively to address their non-compliance with medication," the report said.
Dr Chess Denman, medical director, said the trust has acted on recommendations made by the serious case review and an internal investigation.
"We are now implementing a robust action plan in response to the external inquiry's findings including reviewing our risk assessment process and further increasing our focus on quality and safety," he said.