'Yarn-bombed' bike becomes Cambridge University artwork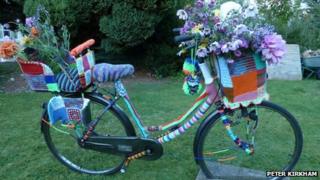 An abandoned bicycle has been turned into a work of art for a Cambridge University college garden.
Staff and students at Murray Edwards College knitted and crocheted squares for an artist known as "The Willow Wanderer" to put on the bike.
The "yarn-bomber" or "guerrilla knitter" has also decorated lamp posts and bike racks with knitting.
"It's about turning the dreary urban landscape into something colourful and creative," she said.
The knitted bike was the brainchild of college gardener Peter Kirkham.
'Candy-stripe bike'
"We had this bike which was abandoned at the college months ago. It wasn't locked so it had been trashed," he said.
"We just love all of this yarn-bombing that goes on around the country and thought doing that to the bike would be great."
He said the "wider college community" and Facebook friends of the gardeners had all contributed knitting for the artwork which was used as the centrepiece for the college's Apple Day on Saturday 13 October.
"It was hours of hard work to create what we called 'candy-stripe bike', but it was really worth it," he said.
"It looks great and we've now got to decide if it can sit somewhere permanently."
The Willow Wanderer, who prefers to remain anonymous, said: "This isn't about me. It's about getting the wider community involved in creativity and I've got more of this type of thing planned for Cambridge."