Whittlesey supermarket row: Residents have their say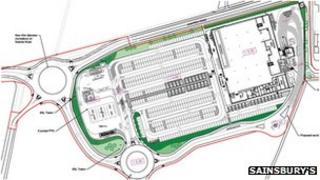 A public meeting over plans for a supermarket in a Cambridgeshire town that led to two schemes being approved has opted for a Sainsbury's store.
Residents at Whittlesey rejected a scheme by Tesco on Tuesday night as Sainsbury's plan included a 54-acre (22 hectares) country park.
All 14 members of Fenland District Council's planning committee were ordered to stand down over the row.
The schemes have both been put on hold and a court battle is expected.
Fenland council members had approved plans for a Sainsbury's rejecting an application from Tesco.
Planners later reversed this decision without consultation and also approved Tesco.
The council leader fired the committee after taking legal advice that its decisions may have been "unsound".
'Spoke their minds'
About 250 residents attended the meeting and local councillor Gary Swan said: "The people came and spoke and are writing to the council.
"They will get what they want and the most popular scheme is Sainsbury's as it includes the country park."
The meeting was chaired by the Cambs Times editor John Elworthy who said leading council members attended and were expected to brief Fenland leader Alan Melton.
"Both supermarkets were represented at the open meeting where opinions were expressed from the floor by people aware of the undercurrents and spoke from positions of knowledge.
"A resolution said they wanted a supermarket and wanted the process to be back on track.
"But we are not out of the woods as it could yet go to court."
Fenland must also reconstitute a planning committee to consider the issues.
Local MP Stephen Barclay said it was an example of localism at work but as he was not involved directly in the legal process concerning the applications he could only observe.